The lovely beaches in and around Arugam Bay are quit amazing. They are almost deserted and the best surfing beach in Sri Lanka is at Arugam Bay.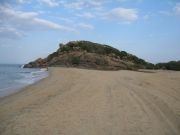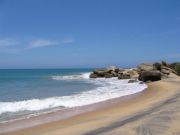 Arugam Bay Beach.
Arugam Bay is a fishing village 3 km. south of the small town of Pottuvil. If you follow this sweeping beach you can walk around one of the surf points to a deserted beach that leads down to Crocodile and Elephant Rock from where you quite often can spot wild Elephants and Crocodiles in the small lagoon.
Arugam Bay is a very popular destination for the adventures tourist. This is a perfect hang out for all nationalities and has accommodation in all categories. The place is also within easy reach of the superb sights at Oganda, Kataragama, Yala and Lahugala National Park.
Surfing Arugam Bay.
The top 40 BPSA surfers are invited to duke it out for four days of 20 minute heats for a grand prize of £2,000 and the prestigious title. The competition is typically scheduled sometime in June, keep an eye on the BPSA website for more details: www.bpsauktour.com A number of less-formal national competitions are also held in Arugam Bay as there are a burgeoning number of skilled Sri Lankan surfers who like to make the best out of the never-ending season by surfing both sides of the island at their peak.
| | |
| --- | --- |
| | Cornwall's Spencer Hargraves ended a year away from competition in style to win the innaugural Sri Lankan Airline's Champion of Champions in Sri Lanka."I really went all out to win here," he told BBC Guernsey. "I haven't been in real competition for over a year so I'm really, really pleased with how I surfed. The wave here in Arugam Bay is pretty much world class and I'd love to surf it on it's day it would be awesome. |
Surfing Arugambay :-)