Arugam Bay Beach.
Arugam Bay is a fishing village 3 km. south of the small town of Pottuvil. If you follow this sweeping beach you can walk around one of the surf points to a deserted beach that leads down to Crocodile and Elephant Rock from where you quite often can spot wild Elephants and Crocodiles in the small lagoon.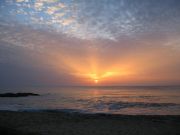 Arugam Bay is a very popular destination for the adventures tourist. This is a perfect hang out for all nationalities and has accommodation in all categories. The place is also within easy reach of the superb sights at Oganda, Kataragama, Yala and Lahugala National Park.
June 2004 was the first year for the Sri Lankan airlines and the British Professional Surf Association to make this special Champion of Champions Surf Challenge in Arugam Bay. And it is decided it is going to be a on going event held every year in June
.
Pictures from the area. Arugam Bay and Pottuvil Point.